Quality hardwood flooring in Brooklyn Park, MN
Hardwood flooring remains one of the most popular flooring solutions for homes. It's versatile and it makes a distinctive statement. Every plank of hardwood is a unique piece of nature that matures over time with age and wear. Hardwood flooring has its own unique character and charm that will last for decades with proper care.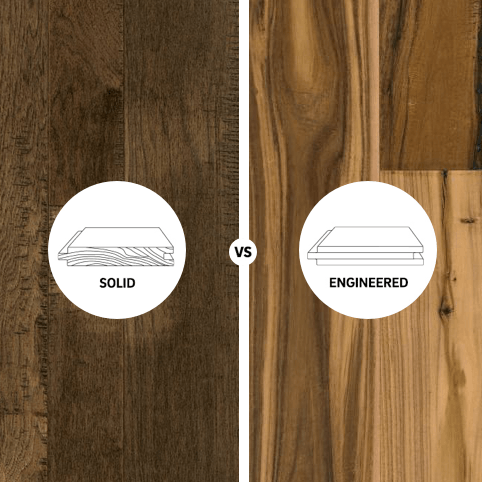 What's the difference between solid and engineered hardwood flooring?
Solid hardwood is more traditional. This features planks that are made from a single, solid piece of wood. It is usually 3/4-inch thick with an added wear layer that can be refinished multiple times, which means solid hardwood can last for decades. However, solid hardwood cannot be installed in basements and is more sensitive to moisture. It is costlier up front, too.
Engineered hardwood, on the other hand, is composed of several layers of hardwood atop a high-quality wood composite, such as plywood. Engineered hardwood costs less up front and can be installed anywhere. However, it is often only 1/2-inch to 3/8-inch thick and can typically only be refinished once before the entire floor will need to be replaced.
Hardwood Styles
There are many different hardwood styles and textures to choose from. Hover over each image to learn more about some of our popular looks. 
Hand-Scraped

Hand-scraped hardwood has a warm, soft look that adds comfort and style to any home or business. When applied to both engineered and solid hardwood floors, the hand-scraped look can give any room in your home or office that age-old feel.
Distressed

Distressing intentionally adds a worn, antique look to hardwood. This look is often used for a more rustic or country aesthetic, although it's easily incorporated into modern styles too.
Wire-Brushed

Wire brushing adds a textured look to both engineered and solid hardwood. To achieve this look, wire brushes glide across each plank, adding texture while smoothing out the wood.
Smooth

Smooth hardwood flooring is traditional and comes in a low, medium, or high gloss finish for any look. It's the charm, elegance, and versatility you love in hardwood!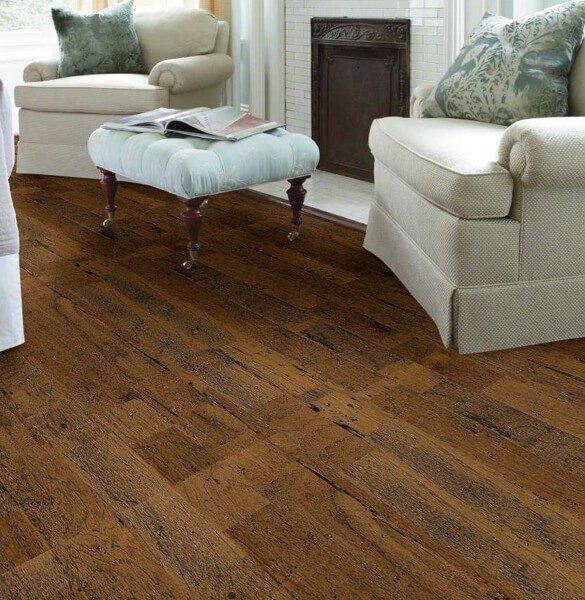 Need inspiration?
Take a look at our hardwood inspiration gallery! See all of the latest trends and more before you shop for hardwood.